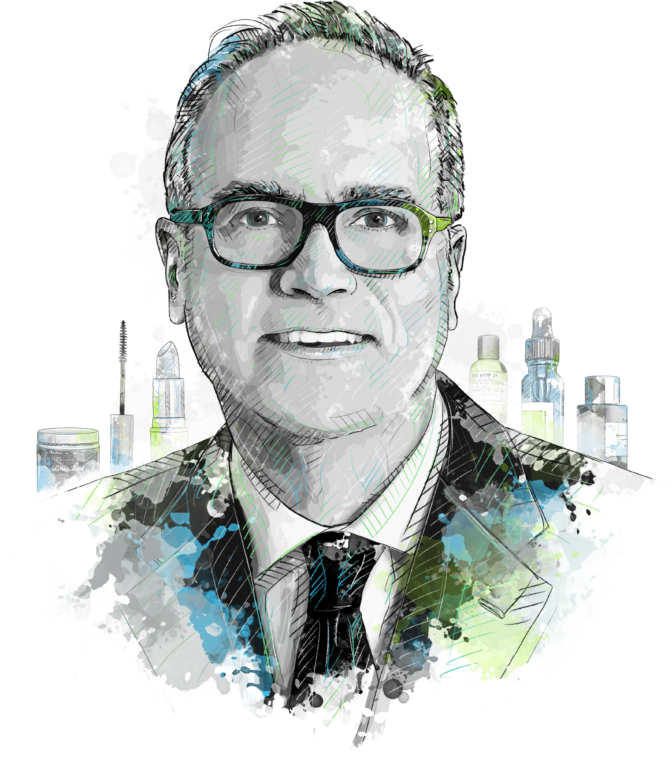 05
Carl
Haney
Executive Vice President, Research, Product and Innovation Officer, The Estée Lauder Companies
Industry: Beauty and Personal Care Products
Total net sales: $17.7 billion
Employees: 60,000+
HQ: New York, New York
The Seer of Beauty's Future
Estée Lauder, the founder of the eponymous beauty brand, once said, "Never underestimate any woman's desire for beauty." Carl Haney, the Executive Vice President for The Estée Lauder Companies' Research, Product and Innovation, cites the founder's words as his guiding light. "Beauty empowers people," he says. And now data is empowering beauty.
Under Haney's leadership, the company's technical innovation centers around the world—all of which are run by women—embrace the predictive power of big data to stay ahead of the competition. "Data is fueling our cutting-edge science and creativity, which is enabling us to invent breakthrough products for our brands while transforming our business," Haney says.
The Estée Lauder Companies is famous for its prestige and luxury skin care, makeup, fragrance and hair care brands. These brands are powered by concept, product, package and process innovations. Products can be launched quickly to market in a span of a few months or take years to develop and test, so Haney (a chemical engineer himself) and his team must create, anticipate and sense long- and short-term trends to lead the way. "The power of data and how it can be analyzed, assessed and modeled has been pivotal to how we think about beauty. We call it amplified intelligence, not artificial intelligence."
Together with our people, data and analytics combine math and magic to fuel innovation.
Amplified intelligence supports a long-term view. "We have a 10-year technology compass," he says. "We look at markets, consumers, technology and fundamental shifts over a decade and then we use that compass to inform our innovation strategy and long-term investments." The company uses data to uncover trends, invent the unexpected and draw inspiration for its wide-ranging portfolio of high-quality products.
"But let's make no mistake. Data doesn't make decisions; people do. And those people need to reflect and represent our global consumers. Inclusion, diversity and equity is pivotal to our innovation pipeline as we strive to find the most locally relevant and coveted products for our global consumer. Together with our people, data and analytics combine math and magic to fuel innovation at The Estée Lauder Companies."
Case in point: Haney stresses the importance of what he calls "cool hunting," researchers getting out of the lab to touch base with consumers, industries and markets in search of the best new ideas. One example Haney mentions is how the company leverages skin care technology in makeup to make it more interactive with or beneficial to the skin—a process The Estée Lauder Companies call "skinification" of makeup. This consumer need, in particular, was accelerated during the COVID-19 pandemic.
Meanwhile, as some companies embrace nearshoring in response to supply chain disruptions, The Estée Lauder Companies leaned into their global footprint. "We think of ourselves as a network of centers with long corridors," Haney says. "These technical centers work around the clock, researching, performing clinical studies, experimenting and developing products and packages. They work both independently and interdependently, locally and globally, and with internal and external partners to drive innovation and resiliency. We manage complexity every day across our global operations, and we believe complexity does not need to be complicated."
Looking forward, Haney sees promise in sustainable innovations, which he says will continue the beauty revolution started in 1946 by Estée Lauder and her first four products. "Our company values are what make us who we are: We are committed to doing our part to manage environmental and social impacts, driving sustainability initiatives forward and helping innovate, solve and connect at both local and global levels. Whether it's materials, ingredients, packaging, process or formulation, we want every product to be created through the lens of sustainability."