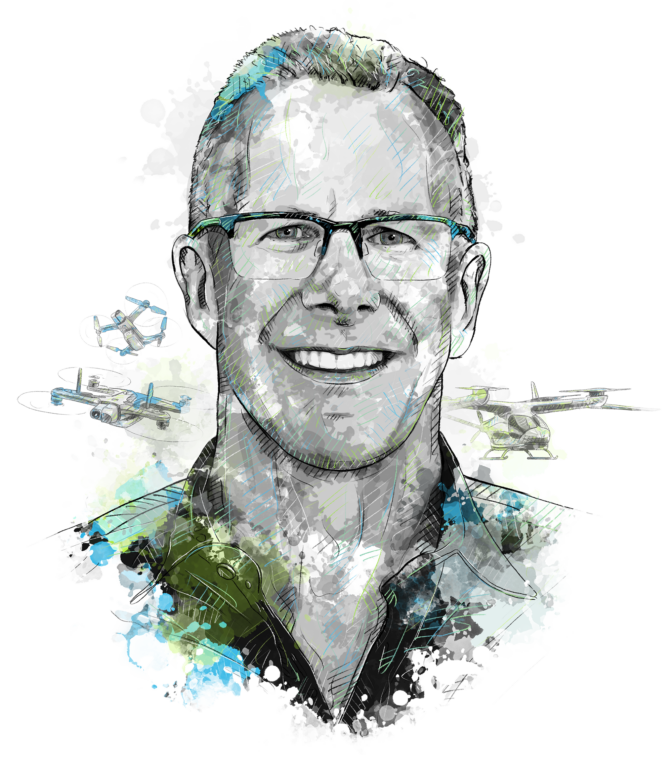 04
Adam
Grosser
Chairman and Managing Partner, UP.Partners
Industry: Venture Capital
Employees: 30
HQ: Santa Monica, California
Man in Motion
Most babies crawl before they walk. Adam Grosser came into the world ready to travel fast. "Seven of the first 10 words I spoke were names of cars or airplanes," he says, citing his baby book. "And that has not changed. I have been biking seriously since I was nine. I have raced cars, motorcycles, sailboats, flown planes and helicopters. Anything that moves quickly has been the way I like to spend my time."
Now at investment firm UP.Partners, Grosser funds companies that help people and products move faster and better—from battery-powered airplanes to warehouse inventory tracking drones. One innovative company he's supporting is Verve Motion, which makes a wearable lift-assist robot that reduces the strain on warehouse workers by up to 40% and cuts injury rates by up to 80%.
It also solves several problems that have plagued robot developers. "When you think about robotics and people, you imagine some giant exoskeleton thing out of a movie," says Grosser. "This looks like the tiniest backpack you've ever seen."
Indeed, the Verve Motion robo-backpack weighs only three pounds, straps on in 30 seconds and takes just two minutes to master. The battery lasts 12 hours. "You should see the worker testimonials," he says. "They're like, 'I de-palletize 40,000 pounds a day. This has changed my life.'" The technology has also lowered insurance and workers' comp rates for customers in retail and grocery. Even the U.S. Army has signed on.
Grosser got his start as an early Apple engineer—"when both Steves ran the company"—but after a decade, decided he wanted to move to the business side of Silicon Valley. After getting an MBA, he was hired at Lucasfilm, where he helped develop theme park attractions, video games and digital theater. After a long stint as a serial entrepreneur, a friend said, "'You should be an investor.' Literally, I didn't own a stock. I had never made an investment. But I had been a leader of companies, so I was actually useful to the companies we were trying to create," including Tesla, Solar City and other energy-efficient transportation ventures.
And Grosser keeps moving himself. He's a certified airline transport pilot who's built four planes, five boats, 20 cars and motorcycles and a few skateboards. If you can catch him at his desk, he speaks with near-religious enthusiasm for the societal benefits of mobility.
"History has shown that every time you increase the mobility of a population group, the economic impact is profound," he says. "Only 200 years ago, most people lived within five miles of where they were born, and the primary mode of transportation was on foot. Our north star at UP is to enable people and goods to travel faster, farther and more efficiently."