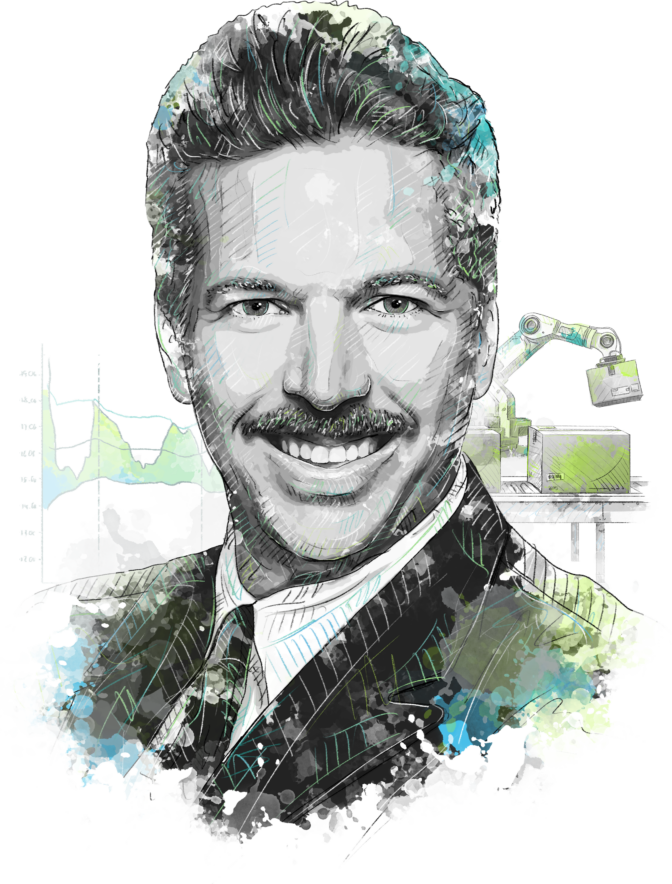 06
Ron
Kyslinger
CEO and President, Kyslinger Consulting International
Industry: Consulting
HQ: Murrells Inlet, South Carolina
The Automation Sensation
In 2011, Rick Cohen, the billionaire CEO of grocery supply giant C&S Wholesale Grocers, reached out to Ron Kyslinger with a request to review his third-party logistics warehouse, ES3. Cohen's massive automated food distribution facility in York, Pennsylvania, was underperforming.
Kyslinger, who had spent decades leading automation innovation in the auto industry, had minimal experience in the grocery space. But, excited by the challenge, he took the gig, quickly spotting issues across ES3's operations and leading the team to address them. Within five months, the throughput of the automation increased from 1,200 cases an hour to nearly 6,000.
In e-commerce, and in other industries that are much earlier in their adoption of automation, there's so much low-hanging fruit that I'm making wine every day.
After his success at ES3, Kyslinger led the launch of Symbotic, a robotics warehouse automation company based in Wilmington, Massachusetts. As VP of operations and VP of engineering, he ushered in a commercially viable system. Amazon soon noticed Kyslinger's collective achievements and recruited him as their executive director of worldwide operations, engineering, design and innovation. And in 2016, he worked as a global officer for Walmart, leading the transformation of its e-commerce. Today, as CEO and president of Kyslinger Consulting International, he helps e-commerce startups, large retailers and private equity firms navigate the rapid evolution of automated systems.
"In the auto space, automated systems have been prevalent for decades, and there is extensive rigor around process automation. They are working on incremental improvements, which can result in small changes, and it's much harder to impact large-scale transformational change. In e-commerce, and in other industries that are much earlier in their adoption of automation, there's so much low-hanging fruit that I'm making wine every day."
Kyslinger's work comes at an inflection point for e-commerce automation. In the pre-COVID-19 era, companies evaluated warehouse automation through the lens of return on investment because it helped reduce costs and improve throughput. The pandemic, however, changed the equation. Today, many companies evaluate automation solutions through the lens of maintaining business continuity.
Of course, no two automation systems are completely alike. The complexity and diversity of client needs require that Kyslinger take a multifaceted approach to sell his vision and help teams prioritize specific short- and long-term improvements. His goals remain the same for each bespoke solution: layering technologies to improve flow while upskilling to create safer, more sustainable jobs.
For Kyslinger, new automation challenges keep the work fresh. One client recently sought help to improve the return on investment for its automated storage and retrieval system. After analyzing operations, he determined the source of the problem was the company's inventory management software. Partnering with the client's supplier, integrator and operational team, he introduced modifications that quadrupled the automated system's utilization.
Other projects are more complex. Kyslinger recently helped a major South America-based retailer expand into online grocery sales, a notoriously difficult category for new entrants, who must contend with a slew of complex inventory management chalshelenges. The same banana, for example, might change SKU numbers two to three times as it ages on the shelf. Kyslinger advised the client on their full end-to-end fulfillment strategy while guiding them through the successful new business launch.
The process isn't always easy, he admits. While automation adoption has increased in recent years, it's still new for many organizations. Some leaders are skeptical, while others are outright set in their manual ways. As a result, Kyslinger must often use a light touch.
"You may laugh, but I often say that I have to play the role of the 'automation sherpa,' leading others on the journey to climb the mountain of output that the automation was designed to enable," he says. "Too many people want to revert to their old ways of doing things manually and thus under-leverage the capabilities of automation. Too many people get stuck. My job is to help them get comfortable with something that is, for many, a brand new way of solving the problem."