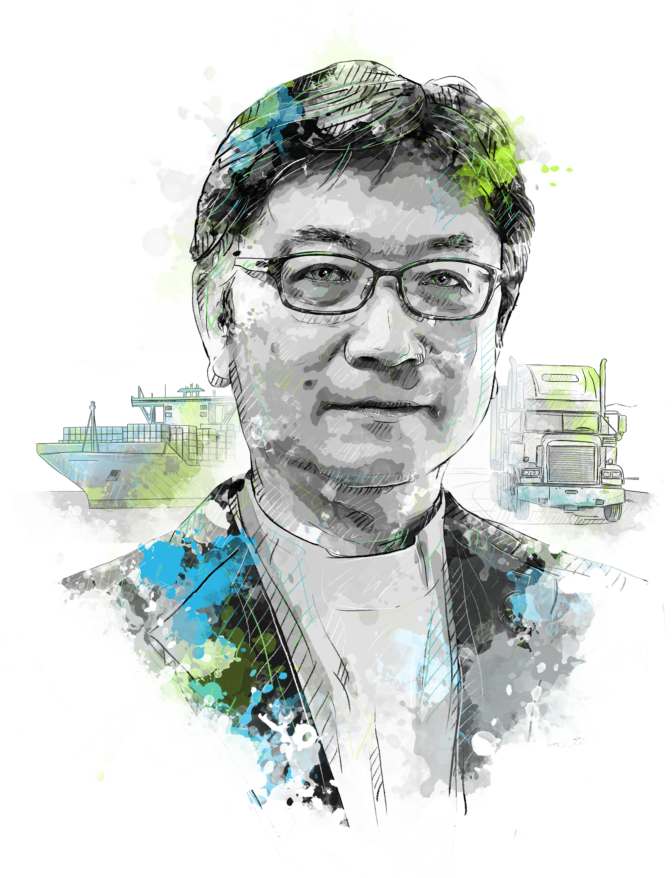 13
Akira
Unno
Executive Officer, NIPPON EXPRESS HOLDINGS, INC.
Industry: Logistics
2021 revenue: $18.80 billion
Employees: 73,500+
HQ: Tokyo, Japan
Data-Driven Impact
What's the key to building a more sustainable society? For global logistics giant the Nippon Express Group, the answer is clear: greater insights fueled by better data.
Earlier this year, the company formed a team dedicated to sustainability and digital transformation. Hand chosen to lead the group was Akira Unno, a veteran at the Nippon Express Group since 1989 who previously led corporate planning and business development.
The new team was not only a first for the Nippon Express Group but also for Unno himself. As a financial-focused business leader, he spent most of his career evaluating profitability and other business unit goals. Sustainability was uncharted territory. "There have been a lot of expectations for what we're doing. It was a new challenge for me," he admits.
Sustainability is a foundational part of our company.
Given today's volatile supply chain operating environment, high expectations are understandable. The past two years were an incredibly tumultuous time for logistics companies like the Nippon Express Group, which saw operations completely upended amid a global pandemic, the conflict in Ukraine, and a series of other challenges. At the same time, the larger industry continues to grapple with its ever-increasing carbon footprint, driving increased scrutiny on the supply chain's environmental impact.
This led Unno and his team to ask a key question: How could the Nippon Express Group leverage data and technology to make supply chains more sustainable and resilient? "It was very clear to me that sustainability is a foundational part of our company," he says.
Unno believes that the Nippon Express Group is in a unique position to make an impact. Spanning ground, ocean and air transport, the company's logistics network is one of the largest in the world. The scale of its reach gives it deep visibility into a vast amount of information, including customer and load data.
Collecting this information is just one part of the equation; the company must also act on it. To that end, the Nippon Express Group is working to integrate and centralize the data produced across its vast network. This data—combined with external data, such as weather patterns and geopolitical trends—allows the company to spot waste in its current operations and improve operational efficiency.
To illustrate the direct connection between sustainability and digital transformation, Unno points to data that helps optimize how the company loads and dispatches its delivery fleet. Rather than send half-empty trucks, the Nippon Express Group combines parcels that, together, allow vehicles to be used most efficiently.
In addition, they recently launched EcoTrans Navi, a service offering customers the optimal shipment transportation mode based on factors like freight, lead time and even carbon dioxide emissions. The ability to collect and visualize this data is critical for the increasing number of customers who set ambitious emissions goals for their operations.
Partnerships also play a key role. To help customers better understand their CO2 emissions, the Nippon Express Group teamed with one of Japan's largest technology companies, to build a data-driven open platform for pharmaceutical and semiconductor logistics.
"Sustainability has always been seen as something internal and reactive," Unno says. "We want to be more proactive because we know that doing so will both strengthen our business and be an engine for sustainable growth long into the future."