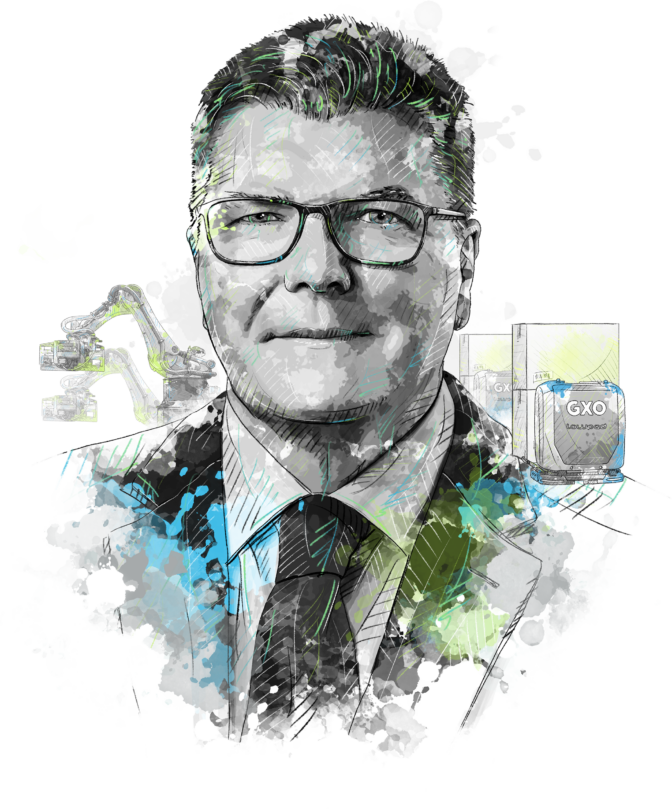 14
Malcolm
Wilson
CEO, GXO
Industry: Global Warehouse Logistics Provider
2021 revenue: $7.9 billion
Employees: 120,000
HQ: Greenwich, Connecticut
The Tech Titan with a Human Touch
Malcolm Wilson is on a quest to transform his industry with the latest robotics innovations. The CEO of GXO, the world's largest pure-play contract logistics provider, is reimagining warehouses with technology that makes work more enjoyable and safer for humans. "We actually find our retention level of team members in our automated sites is much higher," he says of the company's 900 locations globally.
For Wilson, the real innovation in warehouse logistics is about more than deploying cutting-edge robotic arms, goods-to-person cobots or collaborative robots, automated picking systems, and machine-vision systems and scanners. It's about optimizing the collaboration between robots, artificial intelligence and humans. And that human workforce is expanding, he says: "With e-fulfillment, we're doing a lot more work that historically was done in the back staging areas of a retail store."
GXO spun off from XPO Logistics in August 2021 to intensify focus on accelerating growth of its warehouse operations to optimize global supply chains. Its clients include many of the world's largest companies, such as Apple, Boeing, Nestlé and Nike. "Customers usually come to us with a challenge, and it's a challenge of needing to become more efficient," says Wilson. The solutions require integrating technology and a human workforce across a vast ecosystem of warehouse space totaling 200 million square feet.
Advancement of ESG initiatives is another increasingly common request these days. GXO designs safe and sustainable operations that reduce energy consumption and waste through technology, such as solar power, LED lighting systems and water collection. "Automation improves inventory management and that means more efficient use of resources and packaging material," says Wilson. "Technology allows you to get products to consumers in a safer way."
With our collaborative robots, in particular, it's quite often that team members give them names. They get attached to different machines. They become part of the team.
Currently about 30% of the company's revenue is from highly automated warehouses with the potential to reach 60% over the next five years. Wilson says the industry average right now is 5%. The company is increasing its deployment of robotic automation by more than 52% globally, from 3,800 at the end of 2021 to 5,800 by the end of this year. And because GXO often retrofits existing warehouses rather than building new ones, local workforces must be trained in new skillsets.
"Every time we set up an operation, we're having to fuel more top talent to run those facilities," says Wilson. "We're a firm believer in trying to do that internally, and every year we're promoting hundreds and hundreds of team members into new and more exciting and more senior roles." The company also recruits aggressively and sponsors apprentice and graduate programs.
Wilson notes that employees like working with the new technology. "It can take some of the drudge out of the work," he says. "That's the feedback we get from the people in our organization. With our collaborative robots, in particular, it's quite often that team members give them names. They get attached to different machines. They become part of the team."
He sees the harmonious relationship as long-lasting, given continual advancements in warehousing technology. "You're using technology to do things more productively and safely, but there are lots of warehouse activities where you will never replace humans," he says. "There's a place for both in a modern warehousing environment."