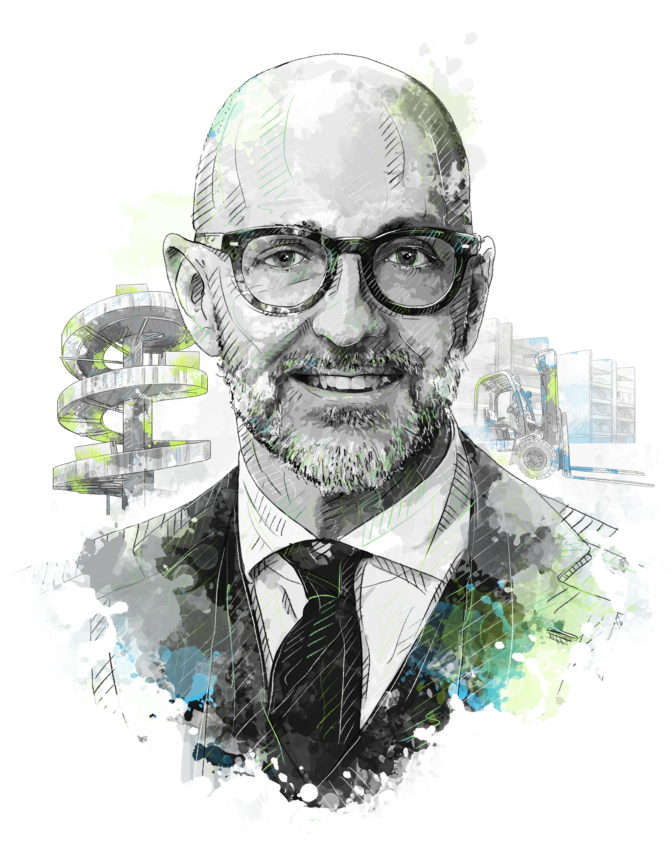 12
Gianfranco
Sgro
EVP of Contract Logistics, Kuehne+Nagel
Industry: Transportation and Logistics
Revenue: $37.2 billion (full year 2021)
Employees: 78,000 (full year 2021)
HQ: Schindellegi, Switzerland
The Contracts Conductor
By almost all measures, Adidas' new fulfillment center in Mantova, Italy, is an impressive feat. Its planned completion in 2024 would make the $300 million, 1.4 million square foot facility the largest of its kind in the region, able to process 18,000 packages per hour and serve 19 countries throughout Southern and Eastern Europe. It would also be completely carbon dioxide neutral.
Perhaps even more groundbreaking than the fulfillment center are the circumstances of its creation: Developed at the height of the pandemic, the planned facility is a triumph of remote work. With the exception of one intimate leadership dinner, none of the center's engineers or project managers ever met in person.
"I've built and run all sorts of industrial and manufacturing projects, and there is nothing as complex as this," says Gianfranco Sgro, EVP of Contract Logistics at Kuehne+Nagel, the Swiss global transport and logistics company behind the facility. "The integration of systems, the automation, the size—there's just nothing like it. The fact that our team built it during the pandemic is astonishing to me."
Sgro has spent much of his career working at the intersection of transportation and logistics. Born in Turin, Italy, the country's automobile capital, he was raised miles from the gleaming office buildings and manufacturing plants of Fiat and Alfa Romeo. After graduating from college with an engineering degree, he went to work for Dutch courier service provider TNT Express.
The supply chain's transformation from a cost center to a value driver has become evident to everyone.
While Sgro's persistent interest in cars eventually drew him to tire manufacturer Pirelli, where he served as Chief Operating Officer of Latin America, the allure of the logistics world proved difficult to resist. Recognizing the increasing importance of the supply chain, he joined Kuehne+Nagel in 2015, where he partners with clients to manage large, complex supply chain and distribution services.
"What's remarkable to me is the relevance everything related to supply chain has in any CEO's agenda now," says Sgro, explaining the critical role logistics companies now play. "The supply chain's transformation from a cost center to a value driver has become evident to everyone."
That role continues to evolve. Today, logistics companies like Kuehne+Nagel aren't just concerned with moving products from one place to another, they're also investing in ways to do so more sustainably. The company's Project Logistics team, which creates solutions for renewable energy companies, will soon help construct one of Europe's biggest biofuel facilities. In addition, Kuehne+Nagel has committed to ship 40,000 TEUs of biofuel, enabling customers to neutralize the CO2 emissions of their shipments across the world.
Looking ahead, Sgro believes digitization will continue to be the most significant supply chain transformer. "Technology has smashed into this industry and generated an extensive pipeline of opportunities," he says. "I would say that we're probably at 40% of the agenda."