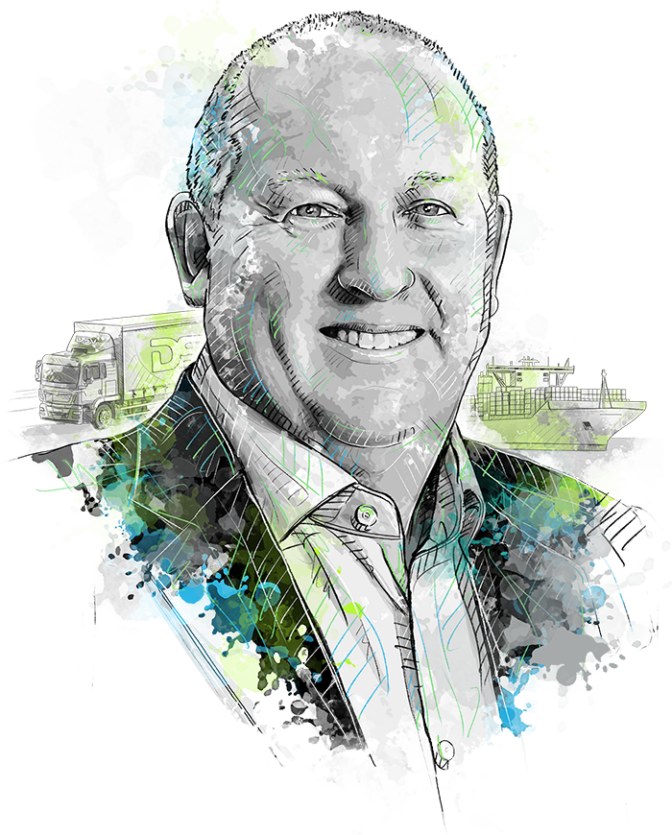 Mike
Wilson
Executive Vice President Latin America and Global Logistics Manufacturing Services, DSV Global Transport and Logistics
Revenue: $18.9 billion (2020)
Employees: >75,000
HQ: Hedehusene, Denmark
Who are the groundbreakers in supply chain management?
They're the ones that can see the way the world is changing and are brave enough to embrace that change.
Will Easing Supply Chain Shortages Save Christmas?
Earlier this month, U.S. President Joe Biden announced plans to ease supply chain shortages and, thus, tame rising prices before they can threaten the holiday season. It appears that no amount of magic and good cheer will be enough to solve the problem of America's backed-logged ports this year.
"The demand and supply equation is imbalanced," says Mike Wilson, Executive Vice President of Latin America and Global Logistics Manufacturing Services for Danish 3PL DSV and professor at the PARC Institute of Manufacturing, Logistics, and Inventory Research Centre at Cardiff University. "It's true; people have money, and they want to spend it." However, the supply shortage is not hobbled by one issue. Prices are high, affordable labor is at an all-time low, inflation is on the horizon, and there are not enough truck drivers to move the goods. "The world economy is likely in for a rough ride," Wilson says. There is no quick fix.
In 2018, Wilson warned the manufacturing and logistics industries that disruptive change to the supply chain was coming. During an interview with Professor Aris Syntetos from the Cardiff Business School's Panalpina Research Centre for the academics blog, the former global head of Logistics and Manufacturing at Panalpina said that the "elongated, take-make-dispose supply chain that has been the mainstay model for the last number of decades is seriously under threat." He cautioned global manufacturers "to think seriously about where best to position their production capabilities because speed and proximity to market were becoming much more critical, giving companies more options and choices where to manufacture and warehouse products." He finished by softening the blow, saying, "the transition won't happen overnight."
He was right.
In March 2020, COVID-19 hit, and the transition of which Wilson forewarned accelerated into overdrive—nearly overnight.
"Now, we are experiencing a rapid migration away from globalization and long supply chains to shorter, more flexible, circular, localized supply chains, driven by the increased demands of e-commerce," Wilson explains. Simply offloading ships faster won't help. "If you can get the product, how will it get there?'
Wilson contends that modernizing fragile supply chains won't be enough to stop the dislocation. Company's need to make them future-proof, too. "The new supply chains have to last the next 30 to 40 years," he insists. "They also need to be sustainable and renewable as well."
That doesn't just mean they need to be decarbonized. "That is only half the equation," Wilson says. "Dematerialization is the other half." Take the fashion industry, for example. In the U.S. alone, it accounted for 11 million tons of landfill or 3 million tons of incinerated waste in 2018. To be truly NetZero, that waste must be eliminated, not buried in a landfill. Instead, it must be reused or turned into, say, insulation material for the building industry.
"Dematerialization will become a huge topic of discussion, a huge challenge and one that's going to hit us hard in the next few years," Wilson says.
DSV's role is to work with its customers and suppliers to help serve market trends and address changes that they will experience in the coming years. "If we take sustainability, for example, we have set rigorous, quantifiable, scientific targets to reduce our emissions over the coming years, and to accomplish them we need to cooperate with all our partners in the supply chain. At the same time, we see that the circular economy will play a more important part for our customers."
As such, DSV recently announced plans for the Remakerspace, a joint effort with Cardiff University. Opening in early 2022, the Remakerspace will undertake research into the area of dematerialization and supply chain collaboration to offer customers and society a pragmatic approach on how to transition from the old elongated, linear supply chains of the past, to the new circular sustainable supply chains of the future."
Wilson thinks the key take-away here is that "the world will change, admittedly, maybe a little faster now post-Covid and we have to be able to provide the service that not only withstands but facilitates those changes."