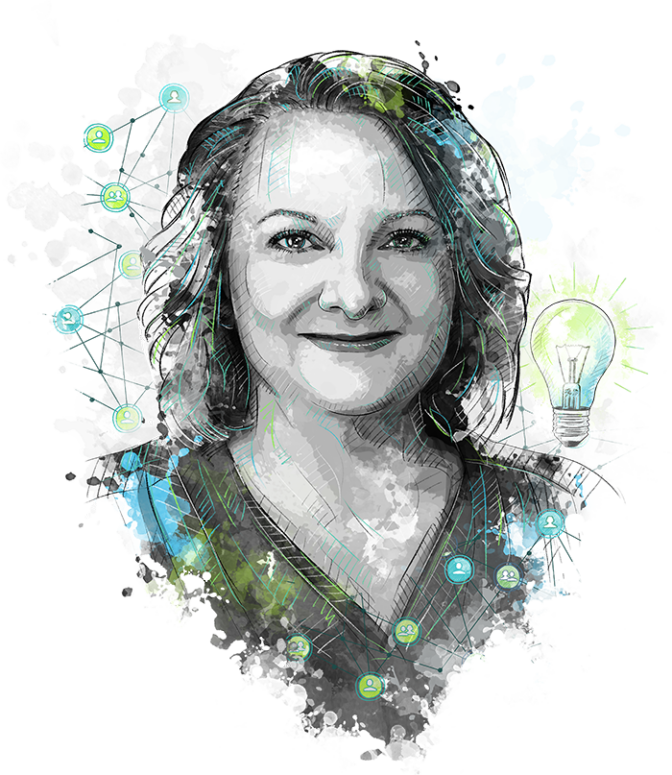 Maria
Flynn
CEO, Jobs for the Future (JFF)
Industry: Builds educational and economic opportunities for underserved populations
Status: Non-profit
HQ: Boston, Massachusetts
What is a groundbreaker in economic advancement?
Those who designed solutions that are demand driven and worker centered.
The Good Fight
Maria Flynn has spent her entire career fighting to get justice for the American worker, first at the U.S. Department of Labor and now as CEO of the Boston-based non-profit Jobs for the Future (JFF). She helps underserved populations improve their employment prospects through education and training, so that everyone can advance economically, regardless of the zip code in which they were born.
Recently she's been focusing her efforts on the labor front, and she's spotted something that has inspired her: Where there was once a hodgepodge of training programs, funding and governance policies, there is now a historic opportunity for wholesale transformation.
All jobs are changing. According to Gartner, the number of skills required for a single job is increasing 10 percent annually, and one-third of the skills that appeared in an average job posting in 2017 are no longer necessary.
Most notably, technologies like automation, artificial intelligence (AI) and robotics are eliminating the need for repetitive or high-risk tasks. If there is not a serious investment made in upskilling over the next five years, many jobs—and thus, workers—will become obsolete. Flynn believes that replicable education and training paths tailored to the employer's needs and their employees' goals are the answer. The trick is to bridge the public and private sector.
We need to seize this opportunity to rebuild, rethink and reimagine how resources flow.
Among the many ways Flynn and JFF are helping more people prepare for jobs in the new economy is through nonprofit and corporate partnerships. Flynn is on the board of and JFF is an operating partner with the SkillUp Coalition. The non-profit coalition, comprised of more than 60 training and education providers, tech firms, employers and philanthropies, is dedicated to helping millions of workers get rehired for in-demand jobs. 
JFF is also a key partner in the XPRIZE Rapid Reskilling competition, sponsored by nonprofit venture philanthropy organization New Profit. This version of XPRIZE incentivizes teams to develop and demonstrate the effectiveness of rapid training and reskilling solutions for those most vulnerable to employment loss.
In addition, JFF has spearheaded the development of the Recovery Playbook for Impact Employers, which offers insights into the unique challenges companies currently face, along with emerging practices to help business leaders navigate recovery from the COVID-19 pandemic and related crises. More than 40 leaders from the human resources, corporate philanthropy and corporate social responsibility business functions at 18 companies across 11 industries co-created the playbook.
Finally, JFF was instrumental in helping certify a new generation of IT support professionals for Google. JFF worked with 100 community colleges in 20 states and with almost 30 domestic and global nonprofits to build out Google's certification program. Then they helped evaluate the success of the program.
"In this time with historic new levels of resources flowing out to states and communities, we need to seize this opportunity to rebuild, rethink and reimagine how resources flow," Flynn says. "We can knit and tie together different programs, funding streams, and governance policies to present a coherent, unified approach to talent development in the United States, and leave the fragmented patchwork quilt where it belongs—in the past."
---