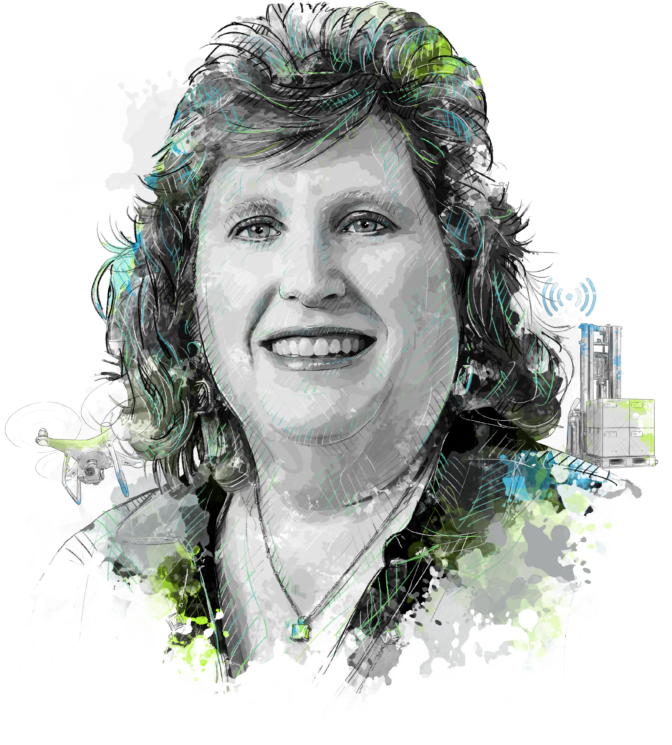 08
Kristi
Montgomery
Vice President of Innovation, Research and Development, Kenco Innovation Labs
Industry: Logistics
Revenue: $1.2 billion
Employees: 5,000+
HQ: Chattanooga, Tennessee
The Supply Chain Soothsayer
Kristi Montgomery has seen the future of the supply chain, and she wants you to see it too.
As vice president of innovation, research and development at Kenco Innovation Labs, Montgomery is leading the digital transformation of logistics. She and her team use emerging technologies from venture-backed startups and independent inventors to improve efficiency, drive employee engagement, lower costs and increase safety for Kenco's 200-plus customers. "I live for getting to the point where we've implemented a brand-new technology or solution that changes customers supply chains for the better. That's what drives me," she says.
Montgomery, who has spent three decades at Kenco, took a unique path to arrive in her role leading the firm's innovation efforts. She spent over 20 years in various management roles within the IT organization. Over time, however, the need to push forward into the future became apparent. While the IT function excelled at "keeping the lights on," as Montgomery puts it, Kenco was being asked to address the larger strategic issues facing the industry in the technology realm.
Recognizing the opportunity, and the risks of ignoring it, Montgomery worked with Kenco's leadership to step out and embrace change. "We realized that if we didn't start looking at where the industry and market trends were going in the future, and helping our customers prepare for that as an organization, we were going to fall behind," she says.
Kenco's leadership had a vision and acted—to great results. Since 2015, the innovation team has identified over $40 million in cost-saving opportunities for the firm's customers.
Montgomery is particularly excited about the groundbreaking technology emerging in remote operations, which allows workers to control onsite vehicles, such as forklifts, from thousands of miles away. The technology not only helps solve the supply chain labor shortage, it also opens new opportunities to workers with physical limitations.
She's also working on next-generation warehouse tracking solutions with such firms as Locatible, which develops camera vision technology to automate the identification and tracking of lift trucks, inventory and trailers. These innovative tracking tools address today's talent crunch while increasing end-to-end visibility, the "Holy Grail of the supply chain," as Montgomery calls it.