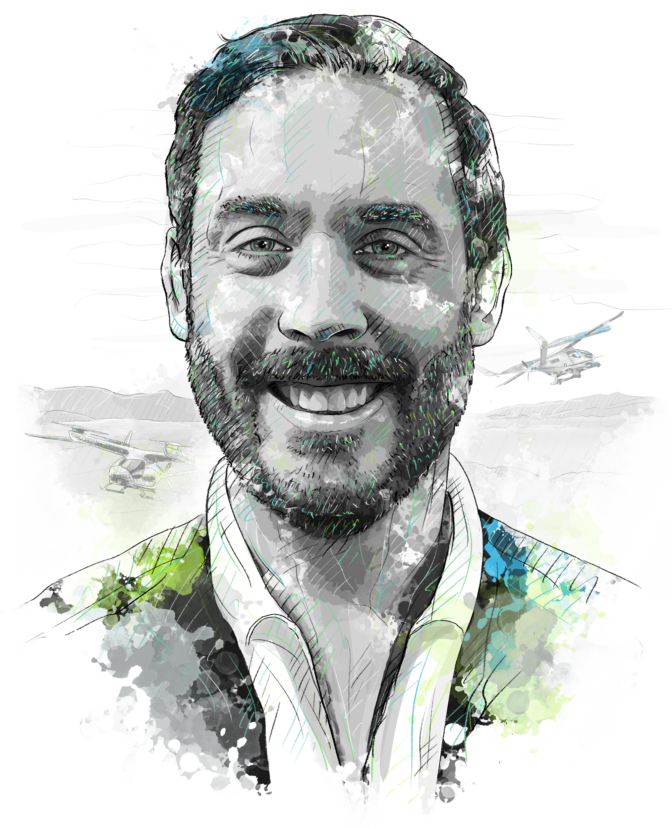 09
Blain
Newton
Chief Operations Officer, BETA Technologies
Industry: Aerospace
Employees: 400
HQ: South Burlington, Vermont
The Unconventional Airman
Growing up in an Air Force family, Blain Newton says he was "hell-bent" on becoming a fighter pilot since childhood, he says. He started flying lessons at age 16 and spent countless hours building airplane models in his bedroom. Though he eventually gave up his dream of attending the Air Force Academy, an unexpected opportunity in 2019 reignited Newton's passion for aviation.
A mentor told him about a startup in Burlington, Vermont, where he was living at the time. The company, BETA Technologies, was developing an electric vertical takeoff and landing airplane (eVTOL) that it hoped would revolutionize the way people and cargo move. "It was clear that the future of sustainable aviation was going to happen here in this tiny hangar," recalls Newton of his initial meetings with the company's founder and CEO, Kyle Clark. "I could be part of something bigger than myself, do something that helps my two little boys and really, truly impact the future of the world. I dropped what I was doing immediately and came running."
An aircraft that flies at one-tenth the cost in all weather equalizes healthcare disparities exponentially.
BETA's early days were focused on developing an aircraft that will deliver human organs on time in an environmentally sustainable way. The team soon realized that this affordable, efficient and zero-emissions aircraft could also be a game changer in industries like e-commerce and personal travel. The applications for rural healthcare access, including cheaper transport of patients and medicines, became a particular passion for Newton. "An aircraft that flies at one-tenth the cost in all weather equalizes healthcare disparities exponentially," he says.
To put BETA's cost-efficiency into perspective, Newton explains that a 170-nautical-mile flight would require about $750 of jet fuel and only $17 of electricity, "making the cost of fuel irrelevant," he says. The whisper-quiet plane requires less maintenance than traditional aircraft and can fly low over cities without disturbing the peace.
BETA's innovation has centered around new forms of propulsion and the technology enabling electric aviation. "We are now on our sixth generation of motors and our fifth generation of batteries," he says, pointing out that the biggest challenges in eVTOL development are range and payload. Their current prototype, the ALIA, can fly 250 nautical miles or carry up to 1,400 pounds of cargo.
The startup now has raised about $800 million in funding from sources that include Amazon, Fidelity and TPG Rise Fund. UPS has placed advance orders for BETA planes along with several other customers across medical, cargo and passenger. Newton's job has shifted from focusing on operationalizing the business into the next phase: commercialization and production.
Today, BETA's airport hangar has a collection of working vintage aircraft, which reminds Newton of the models in his boyhood bedroom. But these days, he's less passionate about biplanes than he is about transforming the supply chain by disrupting the costly and environmentally unsound hub-and-spoke system of commercial air transport. The future, he says, is direct package deliveries to customers anywhere. "We aim to bring greater access and equality throughout the world with this new form of mobility," adds Newton.