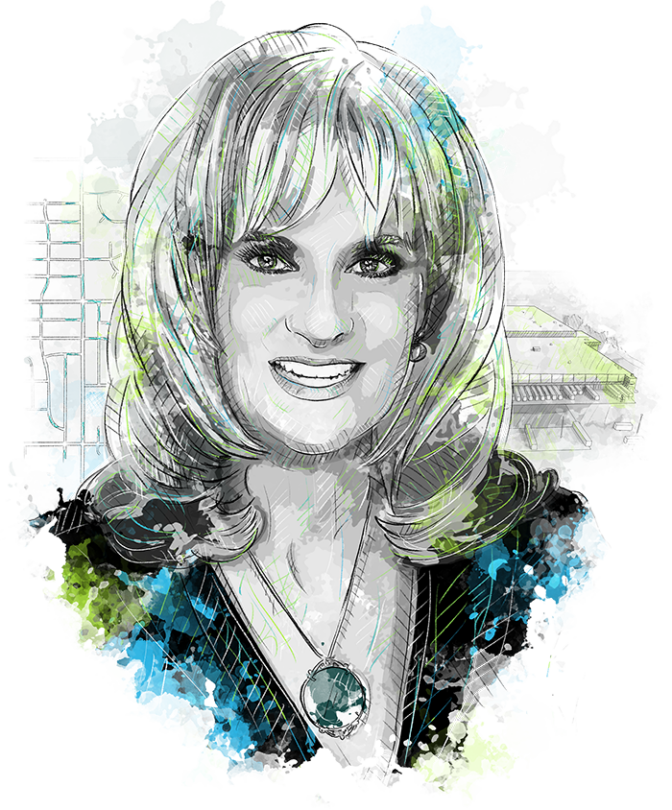 Darla
Longo
Vice Chairman, Managing Director, National Partners, CBRE
Industries: Commercial Real Estate, Institutional Properties
Revenues: $23.8 billion (2020)
Employees: >100,000 with affiliates
HQ: Ontario, California
What is a groundbreaker in commercial real estate?
Someone not afraid to have an opinion, have ideas and act.
Real Talk
Darla Longo flipped the equality script on the commercial real estate market a long time ago, facing down the gender gap and blazing a path for other women to follow if they desired an office in the C-suite—less her intent than a byproduct of being highly successful at her job.
When she joined Coldwell Banker Real Estate (CBRE) in 1979, Longo was one of the only women in her office. She was a quick, creative proven negotiator who allowed clients to achieve the highest and best value for their investment asset. That hasn't changed in four decades, even in an industry where change and adaptation—and, yes, no-holds barred competition—rules. "I must have reinvented myself a half-dozen times, at least," Longo says.
Throughout her real estate career, Longo has been involved in more than $60 billion worth of real estate transactions, including $48.5 billion of investment sales across the United States totaling over one billion square feet (equivalent to 33.3 AT&T Stadiums in Arlington, Texas), sold over 20,000 acres of land (slightly larger than Palo Alto, California), and leased over 282 million square feet (equivalent to 72 Los Angeles International airports).
While the commercial real estate industry has come a long way when it comes to diversity and equality since Longo entered the business, women still make up only 36.7% of the commercial real estate workforce, according to a 2020 Commercial Real Estate Women (CREW) study. And only 9% of C-suite holders in commercial real estate are women.
Women in CRE also earn less on average than their male counterparts. In 2020, average fixed base salary in commercial real estate was $112,290 for men and $100,802 for women. The 10.2% salary gap means that, on average, women make 90 cents for every dollar that men earn in fixed salaries. Even more disheartening, the commission and bonus gap was 55.9%.
Today, Longo is considered by her peers and clients to be one of the nation's top industrial capital markets specialists. She is the first woman in the company's history to be elected to the CBRE Board of Directors and she serves as a managing director of CBRE's West Coast Institutional Group. Longo has earned a place in the firm's Colbert Coldwell Circle, a group that is comprised of the top 3% producers in the entire company, for 41 out of her 42 years at the firm (the exception being her first year when she was named the National Rookie of the Year). This year Longo was in the top 1% of producers. She is well-versed in investment sales, sale-leasebacks, leasing and land sales, as well as the re-capitalizations of institutional investment properties.
She even has an award named after her: The Darla Longo Award is given to the CBRE producer that shows excellent work ethic and the ability to overcome obstacles, and who embodies the highest values.
To give you an idea of just how well-regarded Longo is in the CBRE business, she received a cold call offering her a billion-dollar portfolio to sell at the peak of the COVID-19 shutdown. "That's called hard work and reputation," she says.
She's been able to blaze a trail by committing to the idea that respect is something earned—and that men and women can learn a lot from each other, in that regard, even in an industry that has a long way to go toward equity, she says. "Men tend to put aside petty differences and cut to the chase," Longo adds. "I thrive in that environment. I believe that the industry is finally beginning to change for the better. Today, there is a much stronger appreciation and acknowledgement that women are smart, entrepreneurial, organized and can multitask."
---