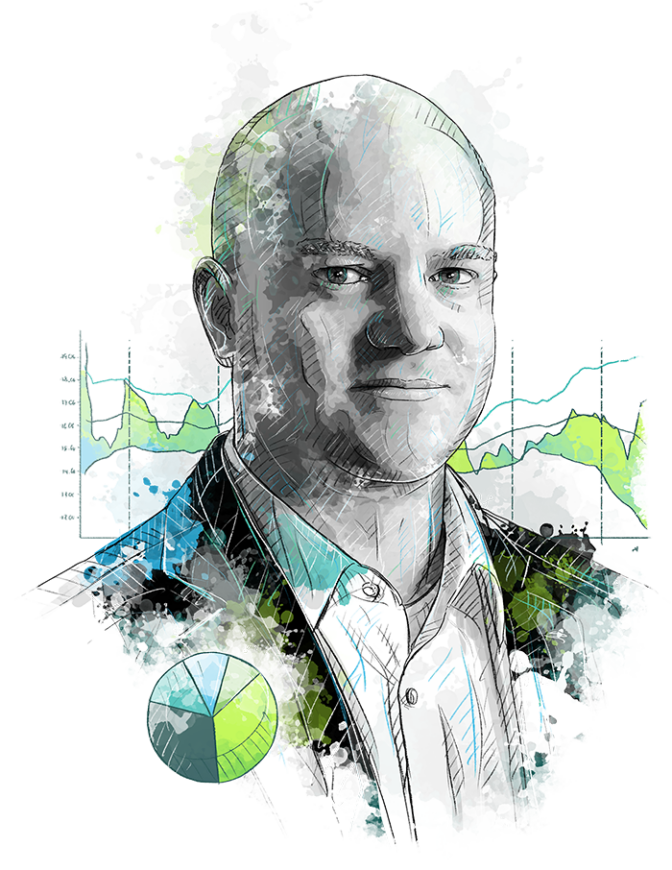 Craig
Fuller
Founder and CEO, FreightWaves
Industries: Logistics, media
Capital Raised: $70 million
Employees: 157
HQ: Chatanooga, Tennessee
What is a groundbreaker in logistics?
They are the ones that think there's a bigger mission. They are not only trying to solve ways to make their business more efficient and more profitable but also delivering something that the entire industry can take advantage of.
Three Times A Charm
Logistics are in Craig Fuller's blood.
His grandfather, Clyde, was one of the four patriarchs of long-haul trucking. His father, Max, co-founded U.S. XPress, one of the nation's largest privately held trucking companies. Craig Fuller had two big stints in the family business, but it's his third major venture—his own—that could help transform transportation logistics into a more carbon-conscious industry at a time when every business and their customers are focused on the environment.
Fullers first stint in his father's business was right out of college, and he ended up founding and managing the largest provider of on-demand trucking services in North America, the Xpress Direct division of his father's U.S. Xpress Enterprises.
In 2005, he branched out to found TransCard, a fintech company that specialized in cloud-based payment solutions to the healthcare, insurance, financial services—and transportation—industries. Still, it was created under the U.S. Xpress umbrella. TransCard sold to US Bank in 2012, with Craig Fuller staying on to manage US Xpress's interests in the company.
Two years later, although he was fired, by his father, it gave Craig the impetus to create something all his own. And for the first time, Craig set out to create something all his own.
In 2016, inspired by media conglomerate Bloomberg, Fuller founded FreightWaves, a freight tech and media company. "While Bloomberg provides a combination of data and real-time information, bringing context to what's happening in the financial markets, we do the same thing in the logistics market, focusing on the physical economy," Fuller explains.
FreightWaves covers everything from big-picture market analyses to daily weather reports. The insights it provides help brokers price freight more accurately, allow carriers to improve routing decisions and benchmarking and permit shippers to project capacity availability. This is in addition to the billions of data points the company collects for customers of its business intelligence software SONAR.
In just five years, Fuller has grown FreightWaves from start-up to essential tool for logistics experts around the world.
The company's latest product—FreightWaves Carbon Intelligence (FCI) platform—which was created to address the role that sustainability plays in the transportation industry allows companies to track and analyze emissions. FCI is designed to bring relevant data to enterprise shippers, which are often under pressure from regulatory agencies, consumers, the media and ESG (Environmental, Social, and Corporate Governance)-focused investors on reducing carbon emissions.
"Shippers already think about cost, transit times and service levels when they're designing their supply chains," Fuller says. "We want to make carbon the fourth variable."
For those people who questioned the validity of the concept at inception, Fuller smiles and says: "People are fascinated with and interested in supply chain in ways that they've never been before. We give them what they need, and they come back for more."