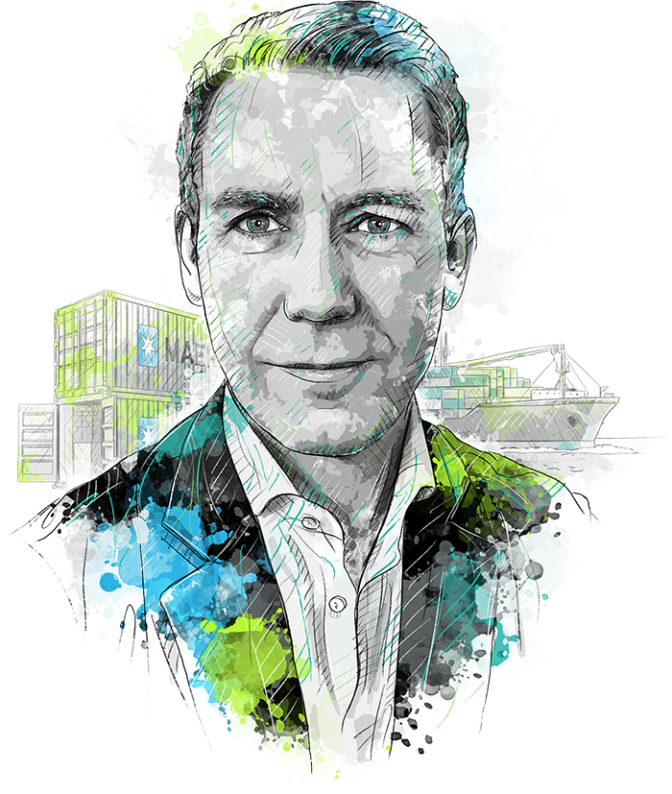 Charles
van der Steene
Regional Head of Sales and Marketing, North America, Maersk
Industries: Transportation and Logistics
Revenues: $40 billion (2020)
Employees: 83,000
HQ: Copenhagen, Denmark
What is a groundbreaker in end-to-end logistics?
It is an organization that dares to challenge its own paradigms, and those of the industry in which it operates, in its determined pursuit of transforming the very same industry toward becoming more efficient, resilient and sustainable.
The Transformation
Charles van der Steene is the tip of the spear for Maersk in North America, helping to orchestrate the company's transformation from the world's biggest shipping company into one of the largest fully integrated land, sea and air end-to-end logistics companies.
"Ninety-five percent of our business started in a port and ended in a port," says van der Steene, Maersk's regional head of Sales and Marketing for North America. But shipments don't stop where the land meets the seas. "Transforming to an end-to-end service provider was the only way for the company to reach the next level of growth and continue to create value."
The evolution is built on a sharp strategy: Cut out the boom-and-bust, price-of-the-day cycles of container shipping and provide clients with more predictability and stability. To deliver this goal, Maersk is tapping into cutting-edge technology.
Take NeoNav, for instance. It's a new digital tool that uses artificial intelligence (AI) to help large companies cut costs while improving supply chain planning, forecasting, inventory management and procure-to-pay management. It looks at the entire supply chain as a service.
As a bonus, data-driven, predictive tools help Maersk reduce the impact global trade has on the environment, building on the $1.4 billion investment the company has already made to speed up its switch to carbon-neutral operations at sea and eventually on land with the purchase of fuel-efficient new container ships and electric cargo trucks. "The number of investments that we'll see in the clean energy will be supercharged in the next 12 to 18 months," van der Steene says.
The new business model and the technology behind it allows Maersk to simultaneously reduce its impact on the planet while building deeper strategic relationships with clients. "Together, we can create supply chains that we were not able to create before," he says. "Supply chains that are more sustainable and reduce the spending of our customers."