Issue 2, June 2022
Almost everything became more complicated during the pandemic, but Maria Flynn's mission of advancing job opportunities for underserved populations took an especially complex series of twists and turns. The CEO of nonprofit Jobs for the Future (JFF) finally has a moment to reflect on what happened during the last two years in the workforce—and at JFF—and how it might foretell what's to come in the next decade.
For one, she says, companies still greatly misunderstand the so-called Great Resignation and what it means for the future. It's not just about disgruntled workers quitting to cash in on a competitive market. "Employees have power they haven't had before, and they are exercising it to demand what they need to be successful and how they expect their employers to show up for them," explains Flynn, a longtime workers' rights advocate, a former U.S. Department of Labor executive and one of Prologis' inaugural Groundbreakers.
Flynn is redefining modern leadership—both for the business community at large and within her organization. With 77% of supply chain personnel planning to quit in 2022, the opportunity for rumination is short, and the time for action is now. She says employers must embrace the lessons of a dramatic few years, overhaul corporate culture, rethink inclusion and make bold moves to keep pace with the evolving labor landscape.
A Culture of Resilience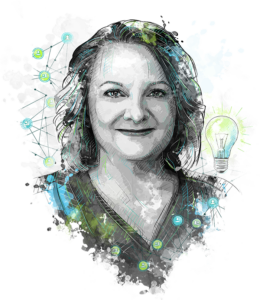 Today's top companies are rethinking their approach to talent as employees demand more than just a paycheck. Workers seek supportive corporate culture, work-life balance and a focus on mental, physical and financial wellness. This means investing in what Flynn calls "workforce resilience," initiatives that help people persevere through chronic shocks and stresses. "It could look like regular check-ins to understand employee well-being, flexible schedules and work arrangements that prevent burnout, and comprehensive benefits packages alongside equitable compensation," Flynn says. This modern approach to employer responsibilities "pays dividends" when it comes to building, developing, and retaining or strengthening teams, she adds.
Recognizing that crisis recovery will be a pressing challenge for the foreseeable future, retailer Sam's Club and JFF designed new, more holistic trainings for frontline managers. The program, now available to about 95,000 warehouse and supply chain workers, addresses issues accelerated by COVID-19, such as loneliness, burnout, hiring and retention.
A Place of Belonging
It's not new nor surprising that workers want to feel heard and valued; they want a sense of belonging. Now, they're simply not accepting anything less. In fact, a recent analysis of more than 1.4 million Glassdoor reviews found that toxic culture, described as "failure to promote diversity, equity and inclusion" and "feeling disrespected," was the No. 1 reason people quit.   
While the past two years saw many organizations issuing admirable ESG goals, employees are demanding results and programs that add personal and professional value. Salesforce, for example, launched The Warmline in 2020. More than 1,000 staffers have used the call-in service, which connects Black, Indigenous, Latinx and LGBTQ+ employees with advocates who help with career navigation, community building and issues of belonging.
As a leader, you must trailblaze a path forward and illuminate the journey for others through authentic discussions of uncertainties and your experience navigating them.
The shift away from physical offices also ushered in a new era of inclusivity. JFF was already casting a wider net through remote hiring but went "all in" when the pandemic shutdown began. Then, as the Great Resignation raged on, Flynn began rethinking culture and inclusion through the lens of remote retention. "This included doubling down on investments in staff, stipends to outfit home offices, resources to support regional meetups and programming, as well as more transparent, equitable and competitive benefits, such as unlimited paid time off, generous parental leave, dependent care leave and tuition reimbursement," she says. "We are continuously assessing what additional changes are needed."
CEO Call to Action
Finally, Flynn notes that demand for corporate activism among employees and consumers alike has perhaps never been greater. A 2022 survey of more than 36,000 people found that nearly six in 10 workers expect their leaders to be vocal on societal issues. "Though this is a complex dynamic for a nonpartisan, nonprofit organization like JFF, it is fundamentally important to take a stand on issues that impact the populations we seek to serve and that may impact our employees," she says. 
Amid the pandemic, Flynn issued statements denouncing systemic racism following the murder of George Floyd, one of renewed hope during the 2021 presidential inauguration and, most recently, a post encouraging employers to provide access to safe and reliable reproductive health care. If thoughtful and authentic, corporate activism can be instrumental in anchoring one's "mission, values and programmatic work within larger social, cultural and political contexts," Flynn says.
Advice to Leaders: Swing for the Stars
How can others create more meaningful, inclusive and inspiring workplaces? Flynn suggests seeking out fresh outside perspectives, leaning on peer support and leading with transparency. She shared her personal pandemic struggles, which included overseeing the schooling of her young daughter and caring for elderly parents, with her teams to build mutual empathy and ease lockdown isolation. "As a leader, you must trailblaze a path forward and illuminate the journey for others through authentic discussions of uncertainties and your experience navigating them," she advises.
Flynn is also a proponent of swapping safe old playbooks for grand ideas that may feel risky. "The pandemic taught me that we have the ability and capacity to do more than we typically think possible to enable greater efficiency, effectiveness and impact," she says. "It showed me the importance and promise of taking big swings."
At JFF, one of those swings was around remote work for their own Boston-based operations team. It was an oft-debated topic, but once in place, the shift to work-from-home allowed JFF to engage a broader talent pool and inspired a new digital workflow. Today, nearly 45% of the staff is not affiliated with a physical office, and employees are spread across 35 states. Flynn's teams are now thriving in flexible work. It's a moment of exhale for a leader who has spent the last few years in survival mode, a chance to take stock of recent lessons learned and apply them to future possibilities. "I now regularly ask myself and my leadership team, what else have we put in the 'what if' category that may, in fact, belong in the 'must do?'" she says. "How do we identify those big-swing opportunities that have transformative potential?"