Issue 2, June 2022
Global logistics provider Rhenus tackles CO2 by land, air and sea
Ask any executive in the logistics business about challenges these days and you're likely to get an earful about post-pandemic supply chain miseries. From closed factories in China to backed-up ports and scarce containers, the complaint box is as full as warehouses from Long Beach to Bremerhaven.
But Karsten Obert at Germany-based Rhenus Group is already looking beyond today's supply chain problems. As a member of the executive board of the third-party logistics provider, Obert focuses on the long-term challenge of building a sustainable, climate-friendly logistics infrastructure into every facet of the business, from air freight to land transport, sea cargo to warehouses. A chemist by training, Obert knows it's the right thing to do for the planet. But he says Rhenus also considers it a form of future-proofing. "Customers and policy makers will not allow unlimited CO2 emissions anymore," he says, "and logistics companies that don't bother to do this work will go out of business."
The family owned company with 37,500 employees worldwide approaches sustainability the same way it handles supply chain issues: through a corporate culture that stresses decentralized decision-making backed up by a strong balance sheet. "We have teams on the ground who know the values that we never compromise on," says Obert. "We empower them to make tough business decisions relatively easily with fast approval. That enables us to have a lot of different responses to a problem very quickly with solutions that are specific to the location."
On the road
Rhenus pioneered field testing of the first Mercedes hybrid truck in 2011, inaugurating a fleet of 50 powered by a 220-horsepower diesel engine and 60-horsepower electric motor. In 2017, the company added three all-electric 7.5-ton trucks, each powered by six batteries providing a range of 100 kilometers. Two years later, the company began operating the first heavy-truck e-fleet in Germany with six fully electric 44-ton haulers.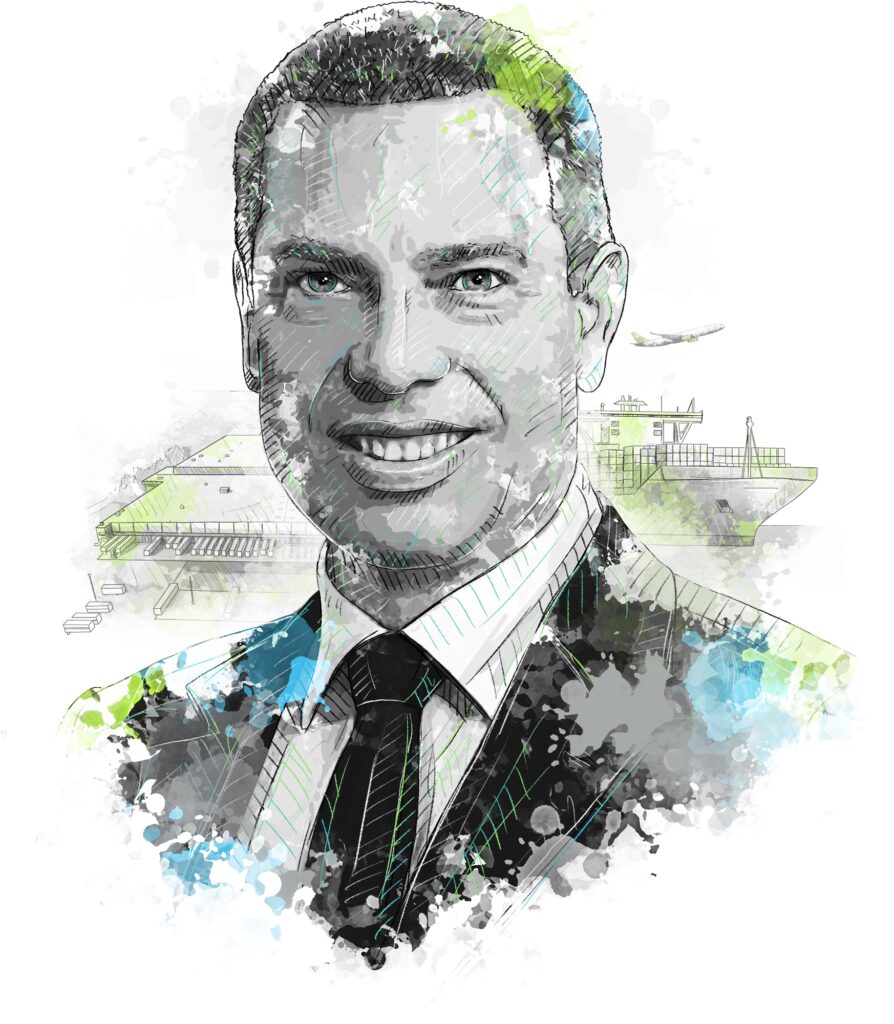 In their quest for the best technology, Rhenus tested trucks from three manufacturers: DAF, E-Force and Futuricom. The trucks, with a range between 100 and 250 kilometers, were used around Contargo terminals along the river Rhine. Motors were charged with sustainably generated electricity and eliminated 440 tons of carbon dioxide every year—a 90% reduction from combustion technology. "Our first electric trucks were from startups because they were faster to develop the technology than OEMs," recalls Obert. "They were literally ripping the combustion engine out of existing trucks and putting in an e-engine. Then, when the OEMs woke up to green technology, we began partnering with every major manufacturer of commercial trucks."
Also with Contargo, Rhenus is testing one of six Scania overhead-wire hybrid trucks on a 10-kilometer stretch of autobahn in the central German state of Hesse. The area has the most congested traffic in Europe's largest country; this so-called ELISA Project, partly funded by the EU, is an initiative to reduce carbon emissions from cargo traffic.
Beyond innovative vehicles, Rhenus is developing traffic algorithms to help drivers conserve energy and working with manufacturers of battery charging stations to optimize green power generation. "We partner with a lot of external asset owners to make these technologies work," says Obert.
Sustainable storage
Rhenus' land-based innovations don't stop at the end of the road. The company is pioneering sustainable warehouse operations—notably at its sleek new distribution center in Tilburg, the Netherlands. Known as the Tube, the 430,000 square foot building is solar powered, heated without gas or oil, daylight optimized and fitted with LED dimmable lighting. The building features triple-glazed windows, rainwater recycling and even biodiverse landscaping.
In other warehouses around the world, Rhenus is using electric forklifts and autonomous mobile robots, combined with optimal charging that extends the lifetime of batteries by up to three years. Yet another initiative is developing building materials that can be recycled when a warehouse is no longer useful.
Across the sea
Obert notes that ships take far longer to develop than trucks—often decades—so change can be slow. That said, Rhenus Maritime Services developed and commissioned five Hanse Eco Short Sea Coaster ships; the first of the 295-foot-long ships was delivered in January 2022. The sleek boats are powered by hybrid engines that use 20% less fuel than equivalent diesel-only ships. Designed for routes in the Baltic, North and Black Seas, they also feature catalytic converters and exhaust after-treatment. "I think sustainable fuels are going to play a big role in shipping going forward," says Obert. "But they are not emission free. So, we need to just be clear on that. The critical question will be how sustainable it really is."
Portside, the company is already using electric-mobility vehicles. It also runs an eco-efficient cargo crane at the Maasvlatke deep-water terminal in Rotterdam. Aside from reducing carbon emissions, the crane lowered both operating costs and noise at the terminal.
Above the clouds
Obert believes the future of sustainable air transport will eventually have to involve hydrogen fuel technology, which likely takes decades to be available at scale for air cargo. Meanwhile, Rhenus offers air freight customers a free service that helps them choose the most eco-friendly flight routes—often at no higher cost.
On the tarmac, Rhenus maintains an innovative electric air hub at Zurich with 22 freight haulers, 16 armored haulers for security services and three internal transport trucks, saving several hundred tons of carbon dioxide every year.
The time for action is now
With corporate climate pledges becoming commonplace, Obert warns that savvy consumers can spot the greenwashing. At Rhenus, sustainability success is measured in continued investments, innovation and measurable results. The company ranks among the most successful 4% in its sector by EcoVadis, an independent agency that evaluates corporate social responsibility.
One thing the Rhenus Group will not do is purchase carbon offsets as a stand-alone solution. "You can buy very cheap offsets that don't really take your CO2 out of the atmosphere," says Obert. (For example, planting trees only works if there is a true guarantee that the trees do not end up being burnt.) "We feel we need to cut our actual emissions instead. It shouldn't be a matter of 'How can I do a little bit of marketing around this and try to get away with as little cost as possible?' We must collectively work toward real solutions that actively solve our climate challenge."