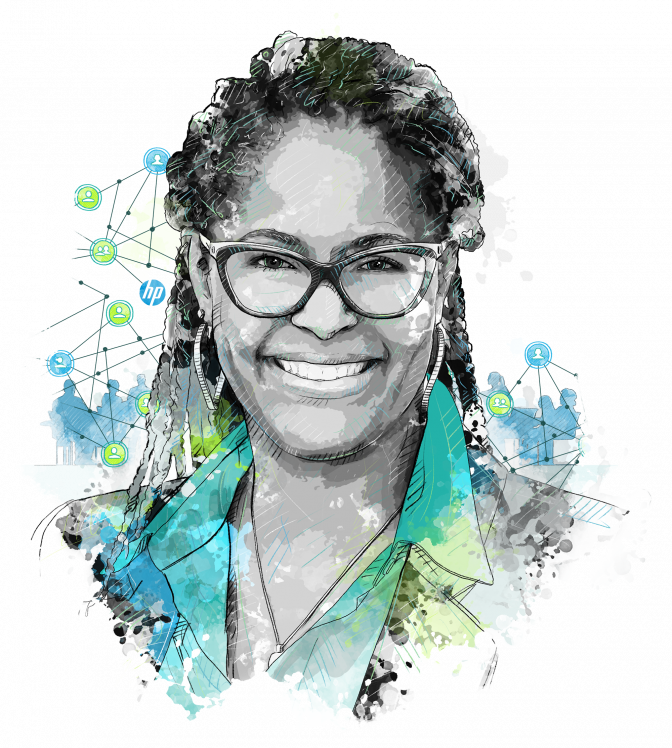 02
Lesley Slaton
Brown
Chief Diversity Officer, HP
Industry: Information Technology
2021 net revenue: $63.5 billion
Employees: 51,000
HQ: Palo Alto, California
Listener in Chief
As a child, Lesley Slaton Brown spent hours listening to her grandmother tell stories about growing up as one of 14 children in a very diverse, multi-cultural family. These stories not only provided insight into her grandmother's extraordinary life, but also emphasized the importance of ensuring your voice is heard and the responsibility of uplifting other voices, too.
Today, as chief diversity officer for HP Inc., Slaton Brown listens even more intently. She understands diverse voices fuel innovation—a key component of the massive IT company's staying power. "I like to say I work from the boardroom to the bathroom. People will literally follow you in and very openly share ideas and suggestions," she says. "I really love the art of listening in order to innovate, to disrupt, to move fast and solve hard problems."
To ensure the company bases decisions on an array of perspectives, HP has prioritized diversifying its staff, starting with the board of directors and senior leadership and continuing throughout the organization. For Slaton Brown, building sustainable pathways to this crucial goal is as important as the intention itself. Her team has spearheaded a variety of initiatives, such as an annual pay analysis to examine and address pay equity and a training program to reduce biases in the hiring process.
We firmly believe that innovation requires diversity.
A year into the effort, the company has already accomplished a third of its goal to double the number of Black executives by 2025. And in 2021, more than 60% of HP's U.S. hires were from historically excluded groups, including women, people of color, veterans and people with disabilities. "We firmly believe that innovation requires diversity," she says.
Strides led by the C-suite have rippled through the company. In 2020, HP established the Racial Equality and Social Justice Task Force, providing hundreds of employee volunteers with an opportunity to help influence its diversity, equity and inclusion (DEI) strategy. As a result of that effort—and one employee's suggestion—HP developed a technology conference for historically Black colleges to help address the future of work and technology needs for HBCUs to thrive and compete. The 2021 inaugural conference provided Black faculty and students with valuable training and forged connections between HP and thousands of students from more than 70 colleges and universities across the country.
Still, Slaton Brown notes, increasing diversity is only the first step. "More than just bringing diversity in, you have to figure out how you facilitate it to really capitalize on the benefit diverse perspectives bring," she says. "It's disrupting. It's innovating. But it's also shifting mindsets so that people understand how to work with differences and truly respect unique perspectives and ideas to drive value."