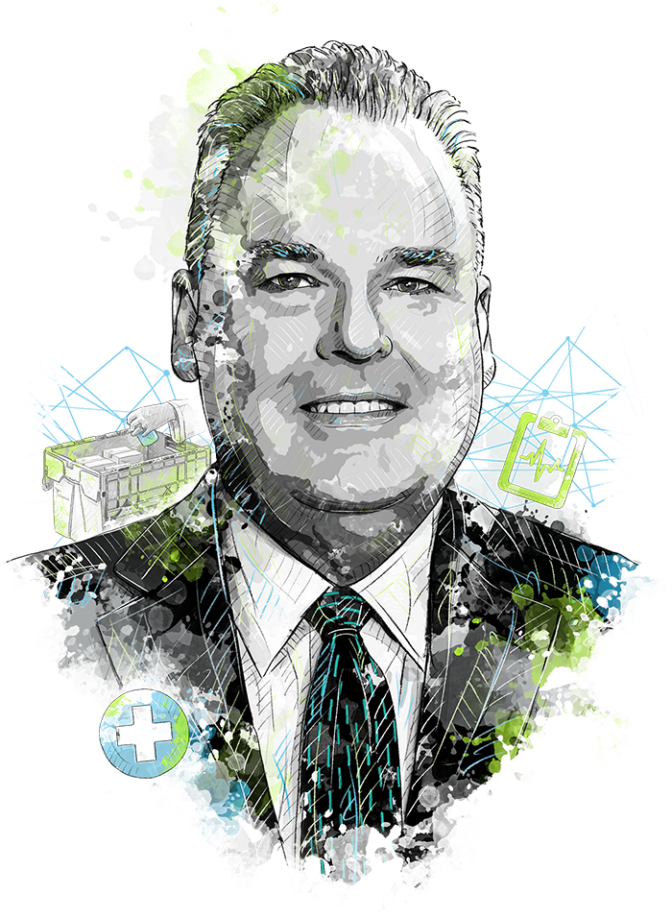 Mike
Kaufmann
Chief Executive Officer, Cardinal Health
Industries: Health Care, Health Care Facilities and Services 
Revenues: $162.5 billion (2020) 
Employees: ~44,000
HQ: Dublin, Ohio 
Who are the Groundbreakers in healthcare?
The ones pursuing diversity, equity and inclusion genuinely and intentionally as both the right and smart thing for their businesses, and the bridge to a better future.
Equality Is Not Just a Slogan
Cardinal Health CEO Mike Kaufmann believes it's a leader's responsibility to "inspire critical and courageous conversations to drive change," especially when it comes to issues of diversity, equity and inclusion.
While Kaufmann has been fully focused on DEI for over a decade, he's taken his convictions to a new level by establishing specific goals for significantly increasing the representation of African American, Black and other ethnic minority employee populations in the U.S., as well as the representation of women in Cardinal's employee populations worldwide by 2030. In the U.S., they intend to increase representation of African American and Black employees at the manager level and above from five to 11%, and representation of Asian, Latino and Latina, Indigenous and all other ethnically diverse groups at the manager level and above from 17% to 23%. Globally, it is the company's goal to increase representation of women at the manager level and above from 40% to 48%.
Under Kaufmann's leadership, Cardinal Health has also tied those goals to executive compensation, extending in a very personal way the idea that DEI is not just the right thing to do but it makes good financial sense, too.
In addition to employee resource groups, a Chief Diversity Officer and consultants who help provide outside perspective, Kaufmann and his executive team lean on several internal organizations to guide progress, including: A DE&I Steering Council composed of senior leaders from across the company that helps identify and discuss barriers to DEI then empower change; and an African American and Black Racial Equity Cabinet, also made up of leaders, tasked with exposing issues of inequity both inside and outside the company to senior executives who might not otherwise see them. "We have a listening strategy to help ensure we hear from a broad cross-section of employees (truth tellers) through employee surveys, focus groups and informal listening sessions," Kaufmann says.
A recent study from McKinsey backs up the value that diversity initiatives like those at Cardinal bring to companies, increasing creativity and innovation, promoting higher quality decisions and enhancing economic growth. In addition, diverse and inclusive workplaces consistently outperform non-inclusive and non-diverse workplaces.
Plus, Kaufmann adds, it's a differentiator in attracting and retaining the best talent, especially among Gen Z and millennial candidates. "These candidates care deeply about ESG-related issues, oftentimes interviewing the company looking to hire them about the programs it has to promote diversity and inclusion in the workplace," he says, "and turning down an offer if they don't like what they hear."
A diverse and inclusive workforce leads to better performance, a more innovative and agile culture and a business that solves problems more quickly and creatively, Kaufmann says. "To help ensure continuous innovation, DE&I must be a leading factor in everything we do." Whether it's addressing racial injustice, systemic oppression, gender equality or improving internal practices for all employees, Kaufmann is driving the DE&I focus from the top of the organization. "CEOs can no longer stay silent," he says.