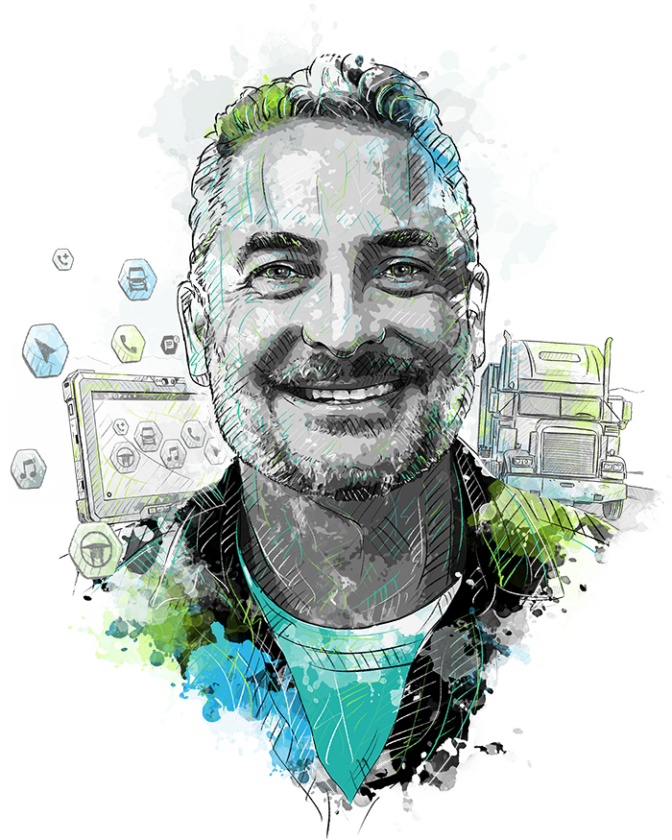 Jack
Kennedy
Co-Founder and CEO, Platform Science
Industries: Telematics and Fleet Management
Company Stage: Series B
Total Funding: $70.7M
Employees: 203
HQ: San Diego, California
What is a groundbreaker in telematics and fleet management?
They are people that look at the way things work today and presume it has no bearing on how they'll work tomorrow.
The Disruptor
You could thematically describe Jack Kennedy's entire career as shepherding technology disruption. His journey of radical transformation began during the U.S. Naval Academy graduate's first stint afloat in the late 1980s, a time before the internet was popular, before wireless phones were an essential part of everyday life.
"I flew E-2 Hawkeyes, the U.S. Navy's primary carrier-based airborne early warning and command and control aircraft, which at the time was the most advanced platform in the service," Kennedy says. "It completely changed the way people operated, tactically, and how they used all the other assets in the military. It improved how soldiers communicate, how they are deployed, how they are monitored and more."
Cut to 2006, when Kennedy was working as a senior vice president for Fox Networks Group on another disruptive technology. This time, he helped bring together Fox and NBC Universal for a joint digital-first entertainment venture that would ultimately change the way people watched TV. They called it Hulu.
From piloting Hawkeyes for the Navy to piloting a breakthrough streaming service for Hulu, Kennedy found his calling organizing disparate systems and technologies to optimize them for all involved. He's a platform guy. Today, Kennedy brings the same type of platform thinking to another industry that's ripe for innovation—trucking—through his latest venture, Platform Science.
We're trying to disrupt a system that nobody knew was a system.
The most common way to disrupt an incumbent industry is to start aggregating from the bottom and working your way up. Eventually, you have enough critical mass to kick the incumbent off the top of the mountain. With Platform Science, Kennedy saw a different route.
"We're trying to disrupt a system that nobody knew was a system," he explains. "The digital supply chain we're talking about isn't really a thing, and it doesn't come with an incumbent. Instead, its manifestation is an aspirational goal that requires the most influential people in each spot of the chain to take a big risk and innovate from the top, not the bottom, where each change brings instant adoption at scale."
Founded in 2015, Platform Science created an Internet of Things (IoT) fleet management system for enterprise fleets to streamline their transportation processes and improve the in-cab driver experience. It essentially arms its customers with the tools—telematics software and device management that can seamlessly integrate with other applications and sensors—needed to compete in today's rapidly changing world.
The company's solution includes a Connected Vehicle Device (CVD), a piece of hardware installed inside the truck that provides 4G connectivity and supports edge computing for real-time metrics. Drivers also use one or more mobile devices to access their apps for compliance, productivity, safety and navigation, and fleet managers have access to a web portal to access data about their fleet and control their devices and software down to the driver level.
To date, Platform Science has partnered with a number of the largest trucking companies in the US, like Western Express, an asset-based truckload carrier based in Nashville. The company will outfit its entire fleet of 3,000 trucks with Platform Science technology by the end of 2021.
"By partnering with a leading OTR fleet like Western Express, we have been able to see how Platform Science's productivity and compliance products can be utilized to take the driver experience to the next level and truly drive-up efficiencies for a fleet," said Darrin Demchuk, VP, Fleet Solutions at Platform Science.
Platform Science also partnered with Daimler Trucks North America, one of the largest truck builders on the planet, to offer its platform as a fully integrated solution rather than an after-market upgrade. And most recently, the company added E-SMART, a developer of fleet software solutions that improve vehicle safety, to its library of available apps that support fleets' needs for productivity, compliance, and most importantly, safety.
Kennedy says he measures success not necessarily by sales but by how much easier and better the company can make truck drivers' lives. "Without them, all essential deliveries—food, water, gas, medical supplies, Care Bears, you name it—would stop. In the United States alone, $700.4 billion worth of goods are moved by trucks every day," he says. "In a world of increasing complexity, anything we can do to simplify a driver's life does make the world better for everyone."