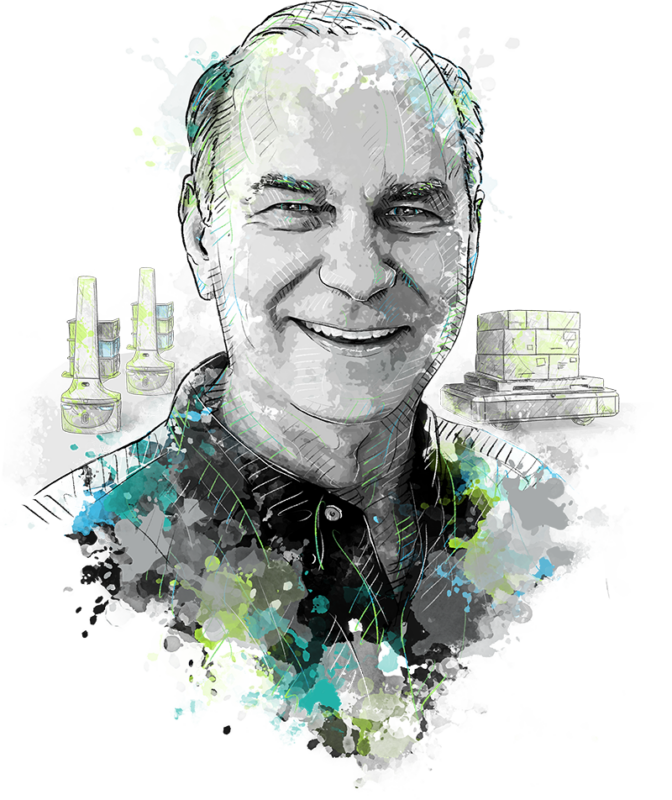 Rick
Faulk
CEO, Locus Robotics
Industry: Warehouse, fulfillment robots
Funding: $300 million
Value: $1 billion
Employees: 250
HQ: Wilmington, Massachusetts
Who are the groundbreakers in robotics?
The ones that are delivering actual return-on-investment to clients. It is that simple.
Rise of the Co-bots
At a time of increasing demand, limited supply, and ongoing labor shortages, more logistics professionals are turning to robots and autonomous technologies for help in warehouses and distribution centers to keep goods moving. According to ABI Research, over 4 million commercial robots will be installed in over 50,000 warehouses by 2025, up significantly from under 4,000 warehouses only three years ago.
When DHL needed more hands-on-deck at a facility, the shipping giant turned to Wilmington, Massachusetts-based Locus Robotics for assistance. Its LocusBot helped improve pick speed at the facility from 78 unit-picks-per-hour (UPH) to 150 UPH.
"Without the robots, humans are spending the bulk of their time walking, which means they are not doing productive picking," says Rick Faulk, chief executive of Locus Robotics. "Our LocusBots were able to eliminate about 60% of their walking time, lowering worker fatigue and improving workplace safety and quality." Workers no longer need to push heavy carts and walk long distances to keep up with the exploding order fulfillment demands. Workers stay in zones while the bots bring the work to them – increasing picking speed and fulfillment throughput.
DHL's entire fleet of LocusBots has helped improve productivity by more than 200% and reduced cycle time by 50%. It also offers real-time insight into operational details allowing the shipper to manage workflows and forecast nimbly and efficiently.
"Fact is, flexible, scalable, intelligent automated robots have become critical to warehouses and supply chains," Faulk says. "Customers are using Locus robots to double, or even triple, fulfillment productivity with near-100% accuracy."
Locus builds so-called collaborative robots designed to work alongside people. "We are not about replacing the human workforce, but enabling them to be more productive," Faulk says. According to research firm Gartner, the demand for robotic warehouse systems that deliver goods to human workers, like the LocusBot, will quadruple in the next few years.
Locus pitches its autonomous mobile robots (AMRs) as an affordable alternative to significantly boost warehouse productivity without investing millions of dollars in conveyor belts or other fixed systems. Thus, it requires no changes to a facility's footprint or layout to roll out a solution and can be done in just a few weeks.
How does the bot work? First, LocusBots don't operate alone. They work in swarms, controlled by sophisticated management software that orchestrates their movement so multiple picks can be happening simultaneously.
To avoid colliding with each other or warehouse personnel, each bot has proximity sensors and wireless vehicle-to-vehicle and vehicle-to-infrastructure communications technology to identify objects (other bots, stacks of pallets, humans, etc.) in their path and to maneuver around them or stop in place, if needed.
The Locus solution integrates with the warehouse's management system, which tells it what to pick and where to find the item. Next, it takes the fastest route through the warehouse to find that product. A worker then selects the item off the shelf, verifies the accuracy of the pick using a scanner and display on the robot, and places it in one of the bot's carry bins.
Warehouse personnel can reconfigure the bots with boxes, bins, containers, or peripherals like barcode scanners, label printers, and sensors. Plus, each bot comes with an app that recognizes a worker via a Bluetooth-enabled badge and switches to their preferred language.
The bot then speeds to the packing station, where another worker takes over and packs the item for shipment to a retailer or consumer. Each bot can do multiple picks at a time to maximize efficiency.
Rare but not unique is Locus's Robotics-as-a-Service (RaaS) subscription model. End users can subscribe to as many bots as they need, and it is easy to add or subtract robots from a company's fleet as demand dictates without fear of significant capital investment.
Locus has 7,500 robots contracted and expects this to more than double in the next year.