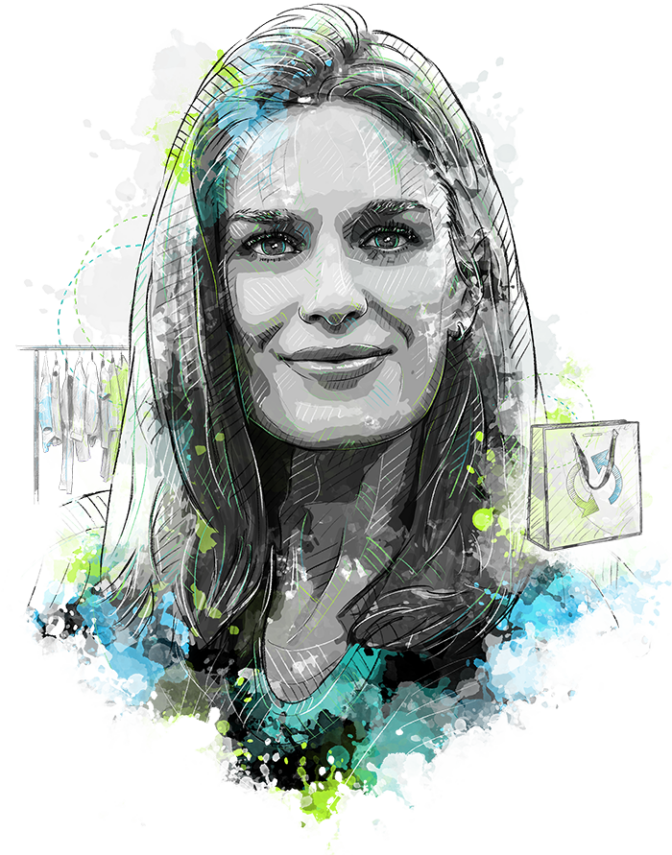 Gayle
Tait
President and COO, Trove
Industries: Re-commerce 
Total Funding: $122.5 million 
Status: Series D 
Employees: >100 
HQ: Brisbane, California 
What is a groundbreaker in e-commerce?
They are the ones who are enabling brands to get more use out of every item and creating less waste in the world.
The Runway Less Traveled
Former Google and L'Oréal executive Gayle Tait had a moment of clarity during recent wildfires near her Bay Area home. The fashion industry where she has worked for most of her career brings beauty to life. But at its worst, it's also responsible for about 10% of annual global carbon emissions—more than the aviation and shipping industry combined. It uses 1.3 trillion liters of water annually and causes about 20% of industrial water pollution. And discarded textiles comprise over 5% of waste in landfills.
Tait is among many for whom the once abstract concept of climate change has come into sharp focus, with extreme weather cycles touching more lives than ever.
"I thought a lot about my surroundings and what I was doing to personally make an impact on the world around me," Tait says.
Out of those moments she found a way forward at Trove. Trove is a new type of company. It's an operating system for re-commerce or circular shopping.
Say you have a pair of boots that don't fit you as well as when you bought them from REI. You can go online or to a store, have the boot valuated and REI will send you a gift card for that amount. Then, you or the store sends the hiking boots to Trove. "We will assess their condition, and then send them to, for example, photography, cleaning, repair, whatever is needed to prep the product for listing," Tait explains. Once that item has been made ready for sale, it is listed on REI's Used Gear site for anyone to purchase. "This type of circular shopping allows a brand to get another bite at the apple, as it were," Tait says.
Historically, thrift stores or consignment stores got all the benefits of reselling top brands. "But the brands themselves aren't getting any of the brand equity, the brand value or the economics from enabling that channel," Tait says. We changed that.
In October 2020, the company partnered with Levi's to launch Levi's SecondHand, a first-of-its-kind buy-back program that enables consumers to exchange pre-owned Levi's apparel in-store for a gift card. Each Trove re-commerce partner eliminates 11,000 pounds of waste on average each year and diverts 41% of carbon dioxide from entering the air for every item that is purchased used versus new.
Other clients include Patagonia, Eileen Fisher, Arc'teryx, among others.
The secondhand fashion industry is a $27 billion market, and, within that, re-commerce is growing ten times faster than brick and mortar thrifting and vintage. The re-commerce sector is expected to grow from $17 billion today to $68 billion by 2028. "We are not only building a great big business," Tait says, "but our business is also enabling a massive shift in the way people consume that will save millions of CO2 emissions and pounds of waste in the future."