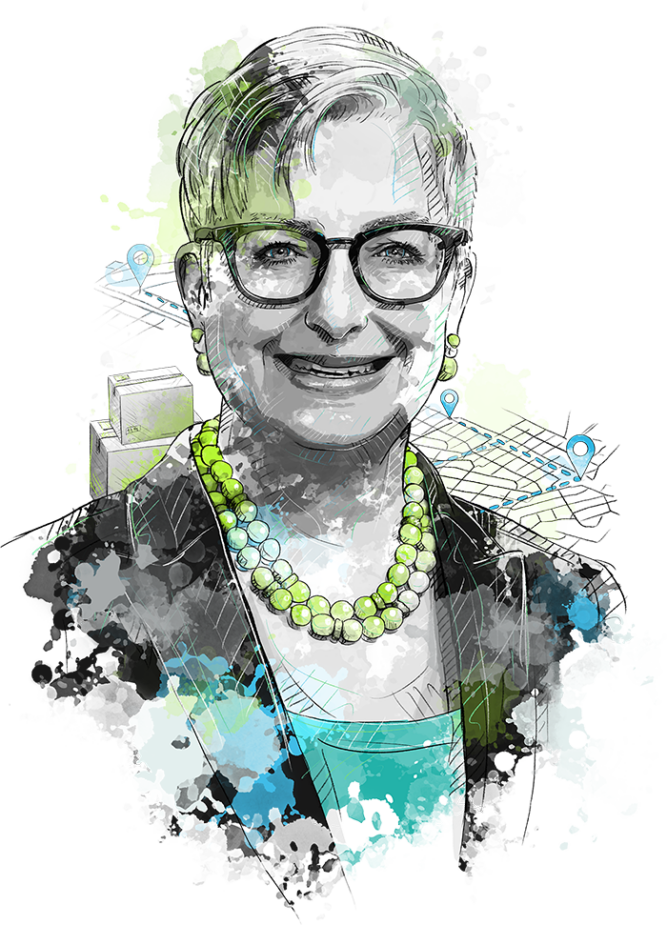 Industry: Global Shipping and Logistics
2020 Revenue: $84.6 billion
Employees: >500,000
HQ: Atlanta, Georgia
Delivering Change
Carol Tomé wasn't looking for a job when UPS came calling in late 2019. She had just retired from Home Depot the summer before after 25 years of service, most of them as chief financial officer (she is a banker by training). She had served on UPS's executive board since 2003 but had never actually worked at the global shipping and logistics company before accepting the job as CEO. By any measure, she was an atypical choice.
Then again, nothing about what transpired in 2020 was typical.
Tomé had presumed she would come in and lend some relevant skills and give internal CEO candidates more time to develop. "I could lead the company until they were ready," she recently wrote in the Harvard Business Review. She planned a listening tour that would take her around the world for several months to shake hands with employees at a number of the company's 2,000 facilities.
Instead, just as she started, the country entered into lockdown, with the President ordering a national state of emergency due to the global COVID-19 pandemic. Tomé was holed up with her leadership team tasked not only with pushing through a pandemic but also planning for the company's post-Covid future, whenever or whatever that might be.
The first order of business, however, was to join the fight against COVID. So, before the vaccine was ready for distribution, UPS built giant cold-storage facilities, or "freezer farms," in Kentucky and the Netherlands, and stocked up on portable freezer units to facilitate the rapid delivery of millions of doses of coronavirus vaccines around the world in a matter of days, not weeks or months. UPS is on pace to deliver 1 billion COVID-19 vaccines in 2021.
Now, almost two years into the pandemic, with the once-flat stock price hitting new highs and revenues soaring to record levels, hiring Tomé seems smarter every day. As an outsider, she was unencumbered by legacy to make changes in a time of industry upheaval, increasingly fierce competition and booming demand.
Not only did she need to keep the company's sorting facilities operational and vehicles and airplanes moving safely, but Tomé also formulated a strategy to meet a nearly constant holiday-level surge fueled by the needs of people who couldn't go out to shop like they used to.
It turns out that the COVID-19 crisis was a crystallizer for UPS, allowing Tomé to hone the company's purpose: "We strategized. We reorganized. We prioritized. We divested. We invested. And I believe we've come out of it with a stronger, more engaged team," she wrote in HBR.
We prioritized. We divested. We invested. And I believe we've come out of it with a stronger, more engaged team
How? First, they decided to stay grounded in UPS cofounder Jim Casey's values—integrity, efficiency, constant learning and improvement and a strong focus on both customers and employees. "We would also maintain our brand relevance, keep our balance sheet and credit rating solid, protect our dual-class ownership structure, and continue to pay a dividend. Everything else would be up for review," Tomé wrote.
Next, her team focused on clarifying the company mission. UPS knew what it did, but why it did it was a little vague, Tomé wrote. Finally, after much deliberation, her team settled on "Moving our world forward by delivering what matters." "Specifically, we wanted to grow our global business by serving customers, offering excellence and value, inspiring our people and partners to do their best, and leading by example as a responsible company," Tomé wrote.
She then decided to revamp the company's decision-making processes. Before 2020, when employees or teams had an idea, they had to present it to one of 21 committees, which would then push winning proposals up the ladder to a final sign-off by a management committee. Tomé cut the process back to six review boards, that can approve some projects even without input from the most senior executives. "When we do get involved, we do so as a 'leadership team' not a 'management committee.' As a result, we move much faster now," Tomé went on to say in the HBR article.
In the end, UPS invested heavily in its plan to increase automation and boost ground-service speed. She also nearly doubled UPS's share price by dropping eliminating research projects, focusing on value over package volume and hustling to squeeze every dollar from an e-commerce boom supercharged by the COVID-19 pandemic—all in her first year on the job.